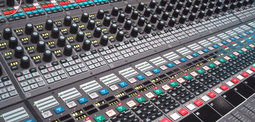 Our audio watermarking solution is a robust technique based on the Fourier transform. The watermark is inaudible and withstands mp3 encoding, time stretching & pitch shifting, changing the sound volume, dynamics compression, trimming and DA/AD conversion including microphone recording.
Features
The SITMark Audio software provides a command-line interface, a graphical user interface and a VST interface. The core algorithm is also available as a software library for C/C++ and Java which allows easy integration in other application software. Here, the processing speed is approximately 4x times faster than real-time playback speed (at 44.1 kHz, stereo).

For mp3 and WAVE files and AC3 sound tracks, an ultra-high-speed Container version of our software is available. Here, audio files can be watermarked many hundred times faster than real-time playback speed.

In our SITMark Audio Burntools, the watermarking is integrated in CD/DVD duplication systems. Here, the watermarking enables publishing devices by Rimage Inc. for creating individually watermarked Audio CDs.
Licensing
Our watermarking technology is available with various interfaces and for various platforms. Please get into contact with us when you are interested in licensing or evaluating our audio watermarking technology.
Audio Media Verlag

Bolinda Publishing P/L

GEERDES midimusic e.K.

Haulix LLC

Hear The Musik

KIDDINX Media GmbH

Labeltools GmbH (ipool.info)

Libri.de Internet GmbH

Netpress Digital sp. z.o.o. (nexto.pl)

ohrenspritzen Hörbuch GmbH (hoerstern.de)

Poolpositon GmbH

Verlag Aleksandria Tomasz Witkowski (audiobook.pl)

Westdeutscher Rundfunk