10 good reasons ...
... to work for Fraunhofer
---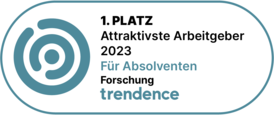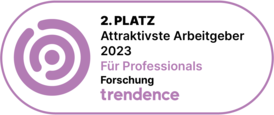 Good reputation
The Fraunhofer-Gesellschaft is regularly listed in rankings as an attractive employer, for example in the Trendence Graduate Barometer 2023, where Fraunhofer was ranked first in the "Research" sector ranking for graduates. For professionals, the Fraunhofer-Gesellschaft achieved second place in the "Research" ranking.

Young colleagues
The average age of scientific staff is under 40.
People skills


All employees are well-qualified and take a solution-oriented approach to their work.
Research freedom
Assuming they fall within the overarching framework of research policy guidelines and the Institute's general orientation, ideas can be turned into products, theories into practice.
Qualification for a professional role
Graduates can qualify for a responsible position in industry in an application-oriented working environment. Fraunhofer's Institutes work closely with this sector and each year an average of ten percent of staff move across to industry.
Doctorate subjects
Projects provide good doctorate subjects.
Continuing education
Fraunhofer invests money in qualification through continuing education. eLearning, vocational training and continuing professional development seminars are designed and organized for all employees.
Good working conditions
New entrant surveys say it all: best laboratory equipment, excellent working atmosphere, attractive assignments, high level of personal responsibility and measures to ensure a healthy work-life balance.
Springboard into self-employment
Fraunhofer helps provide advice, equipment and support to staff wishing to enter self-employment.
Fraunhofer SIT seeks scientific staff, partly also for management positions
You will be responsible for planning, leading, executing and representing applied R&D projects, jointly with clients and partners from industry, government agencies and academia.