Automatic Content Recognition
Connect online and offline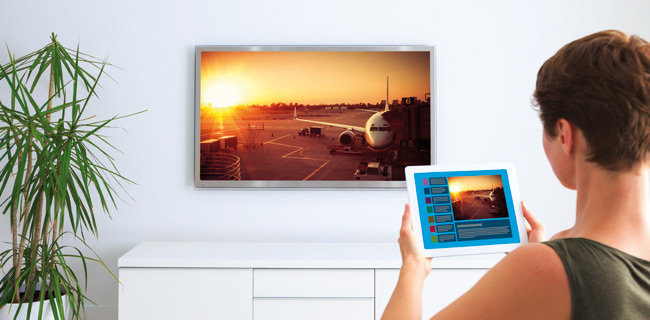 With automatic content recognition (ACR), companies can simplify and expand their communication. By marking visual or audible signals, users can access additional information or interactive programs via respective apps. Fraunhofer SIT offers software solutions for ACR applications based on digital watermarks and fingerprints. The solutions developed by the institute set themselves apart through their high rate of accuracy with, at the same time, low response time. The institute offers a free trial version.
What is ACR?
The trend towards smart devices is ongoing – most people constantly carry their smartphones with themand the tablet is usually within arm's reach. As a result, broadcast providers, advertisers, and other content providers have the chance to utilize these mobile devices as an additional channel for the transfer of all types of content. This is possible with automatic content recognition (ACR): Via an app installed on users' tablet or smartphone, visual or audible signals are recognized, and the attached information is delivered to the mobile device. Through this, ACR builds the bridge between analogue media and the the digital world of the internet, making augmented reality possible. ACR technologies can be used in several areas: in radio, for quiz shows, all kinds of print products, company presentations at fairs, and many more.
ACR for Audio
Many people use their mobile devices while watching television. Via this second screen, the audience looks for additional information about the content shown on the first screen (TV screen), checks their emails, is active in social networks, and much more. ACR offers television viewers the opportunity to become active audience members. Examples of ways they can do this include: Participating in interactive television shows
ACR for Visual Media
QR codes are on the packages, signs, flyers, etc. of many products. People who are interested in these products take a photo of the code with their mobile device to receive more information about the products. However, there is a definite disadvantage to this, because sometimes it is not possible to generate a QR code, for example when a picture, an advertisement, or product catalogue is already on the market and should be augmented with information afterwards. With ACR, which uses fingerprinting as a basis, the picture itself becomes the QR code: Via an image-recognition solution, the motif is recognized and the respective information is made available on smartphones.
ACR Offers Possibilities for
Broadcasting stations (TV and Radio)Film production companies
Marketing and advertising agencies
Printers
Company representatives and sales staff, e.g. at fairs
Game developers
Our Offer
Software development kit for Windows, Linux, Android, iOS and WindowsPhone 8
Free test version
Support, guidance and consulting