simTD
Safe and Intelligent Mobility – Test Field Germany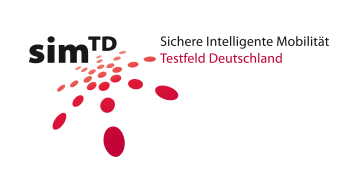 In today's vehicles airbags, ABS and ESP reacts only if the situation is already critical. Vehicles of the future should perceive traffic barriers even before they are visible, identify threats before they become a threat, while ensuring optimal traffic flow. To facilitate this, the next generation vehicles will communicate through mobile information technology in order to exchange information - both among themselves and with traffic lights and other infrastructure.
This car-to-X communication can be used to inform following and oncoming traffic about potential hazards and thus to respond appropriately to the situation. Information exchange with traffic control centers allows controlling traffic lights and lane usage advisories optimally. By including the vehicle's infotainment system, additional value-added services can be offered, such as mobile Internet in the vehicle or automated payment systems at petrol stations or car parks. Basis for all this is a secure and robust communication. Appropriate concepts and solutions are developed by Fraunhofer SIT together with its partners in the project simTD. The feasibility of the development is afterwards tested in the largest operational field test of the world. The intelligent car of the future needs secure wireless transmission of information to and from the vehicle. Thus, the wireless communication will be a key technology on future roads. Many of those prospective systems and services (especially in the field of road safety) will base on ad-hoc data exchange, using the vehicles as mobile sensors. Therefore, this communication has to be protected against unwanted manipulations and failures. Duplicating, copying, tampering and eavesdropping of data by third parties must therefore be circumvented by IT security measures. In addition, the privacy of the vehicle driver must be protected so that location information and movement profiles cannot be created or mapped.

Challenges
SimTD is the world's largest field operational test for car-to-X communication. In the project various applications and services in the areas of road safety, traffic efficiency and additional value-adding services are tested. The field operational test comprises 400 vehicles and 100 infrastructure stations (roadside station). Different wireless communication technologies such as ad hoc vehicle-WLAN (IEEE 802.11p), standard WLAN (IEEE 802.11b / g) and cellular network create maximum complexity. Another challenge for secure communication is the decentralized authentication of all remote communication stations and the high scalability of the network, because vehicles do not have a constant connection to central system infrastructure. Moreover, the resulting network has to work across borders and has to protect the privacy of road users.
The Car-to-X communication is considered as the first practical application of mobile ad hoc networks where many network users exchange information such as traffic data and safety sensitive data by setting up spontaneous communications. Assistance and warning systems in vehicles and traffic control centers use the data, for example, to distribute warnings regarding icy roads or upcoming traffic jams. A secure communication protection against abuse and malicious changes of messages is therefore essential. In contrast to traditional cell phone networks, vehicles cannot rely on a permanent connection to infrastructure components. Additionally, through traffic flow and different speeds a communication between vehicles is sometimes available only for a few seconds. These new challenges make the development of specialized IT security solutions necessary that are usable in everyday traffic, as simulated in the practical tests of the project.
Solutions
In the project simTD a comprehensive IT security solution for remote data transmission in car-to-X networks is developed by Fraunhofer SIT together with partners from the consortium. In this solution privacy protection techniques are integrated, protecting the privacy and identity of the vehicles against third parties. This is realized by means of pseudonyms which make a consistent identification and therefore vehicle tracking difficult. Only for the evaluation of the field test, it is possible to resolve the pseudonyms of the vehicles. All data of the ad hoc communication between vehicles and infrastructure components can be encrypted and signed as required. The necessary digital certificates are used by a special public key infrastructure (PKI) which is implemented and operated by Fraunhofer SIT. Besides cryptographic mechanisms protecting message integrity, sender authenticity and data confidentiality, a verification of mobility data plausibility is integrated on the vehicle. This plausibility test allows identifying incorrect and physically impossible vehicle movement in order to prevent related attacks.
The simTD consortium uses different communication channels (e.g. IEEE 802.11p/b/g and GPRS / UMTS) and develops appropriate security measures accordingly. Also, data transmitted for example via mobile vehicles to the central infrastructure has to be protected by encryption against unauthorized access. The used IT security measures follow national and international standardization efforts, so that the systems are of interest beyond the simTD field operational test. Conversely, Fraunhofer SIT contributes the results to standardization bodies such as the CAR 2 CAR Communication Consortium (C2C-CC) and the European Telecommunications Standards Institute (ETSI). Especially for the protection of intelligent vehicle communications systems standardized protocols and algorithms are needed because otherwise a unified security solution between different countries and vendors would not be possible. The large-scale field operational test of simTD is another step towards a secure and intelligent vehicle communication system, because only with the help of extensive hands-on testing in a real environment, relevant weaknesses are identified and resolved early. Due to the large number of vehicles and roadside communication units also system-critical situations can be considered such as congestion tests in which very high data volume can be expected.