MOBILE
Secure Services for mobile Citizens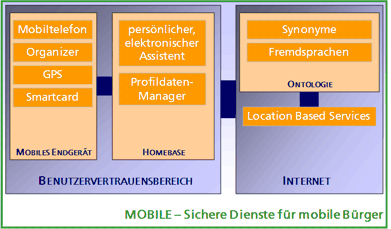 Besides telephoning, Internet Dial-In or electronic payments, other contents and mobile services, which are custom-made in regard to time, place, context and user, have good chances to become mass applications as well. Service providers' and customers' security needs must be considered in these developments, as well as personal preferences in service selection. In this area the project "MOBILE – secure services for the mobile citizens" developed a platform for multilateral and secure services dynamically dependent on the place, the time and the person.
Background and focus
The constantly increasing amount of electronically processable information and knowledge represents a valuable asset in our technologized society, which has to be protected. MOBILE focused on ensuring the protection of transmitted data and information, in the case of mobile information services, for users and service providers. To be able to use mobile data communication purposefully and pervasively in everyday life in the future, the project partners developed security structures, which are transparent for the user and thus enable a broad acceptance and an increasing confidence in mobile technology.
Main Goals
The main goal of the project MOBILE was the realization of a platform suitable as a carrier for multilaterally secure, dynamic service offers for place, time and context dependent services for daily use. Especially challenging was that security requirements and data security interests of service providers and network operators have to receive consistant consideration (e. g. authentification, integrity, profile formation), just as the customers' needs as well (e.g. control of personal data, privacy). When using location based services, actions from the physical world merge in the personal profile with virtual actions. This makes data security and privacy protection ever more important, but without disregarding the fact that there is data that has to be processed for accounting purposes. This results in security requirements for mobile services and applications, which seek to reconcile, through a concept of multilateral security, the different but not necessarily supplementing protection goals of all the parties taking part in a communication. This multilateral security brought about an end to the end security supported by secure middleware. Further questions arose with regard to an efficient search of relevant and context oriented information and a (more automated) device-dependent presentation and/or an efficient, intuitive and simple use of these services. Based on the individual preferences and attitudes, context-oriented services should provide a selection, filtering and presentation of information with optimized operability, adapted to meet the respective user's and the respective device's requirements. Here for example, the integration of multi- modal user interaction and specific layout adjustments were used for text and graphics.
Results
The project MOBILE developed a platform that enables a multilaterally secure, dynamic and individual offering of context oriented services. When compared with the competition, this constant consideration of security aspects is what makes this solution so unique. The consortium focused on implementing base and security services in a prepared scenario. The practical possibilities of the system (summarizíng information from different services, security policies and profile data management) were shown using offers from the tourism industry. With these same platform characteristics, however, any kind of mobile service (CRM, access to enterprise data, etc..) could be realized. Thus the application scenario and its relevance can be applied to other markets.