Hash Guard
Better Protection against Advanced Persistent Threats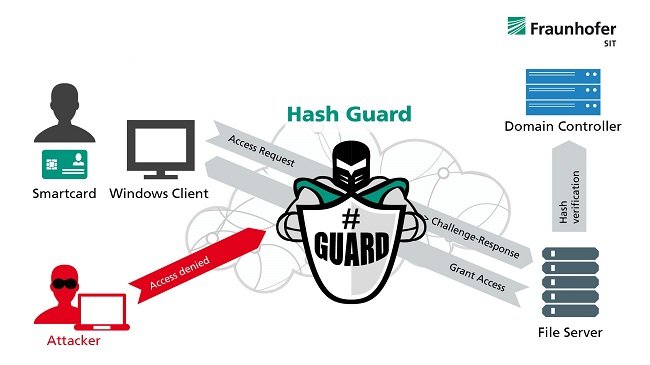 The Fraunhofer Institute for Secure Information Technology (SIT) and Arkoon Netasq, a subsidiary of Airbus Defence and Space, two leading European organisations in cyber security, have jointly developed Hash Guard, a solution for protecting enterprises against widespread pass-the-hash attacks, as part of a new cooperation agreement. Pass the hash technique is used by hackers to circumvent server authentication and gain access to secret information and sensitive applications.Hash Guard is ready for the market and can be integrated into existing network security solutions.
Challenges
Every time a user logs in to a Windows domain network, the domain controller uses the password to generate a number of security tokens a.k.a. hashes. These are used to connect the user's computer with the different servers and applications inside the company network. Due to its design, Windows single sign-on authentication is lacking a mechanism to ensure that a hash is only used by the rightful owner. Consequently, attackers can steal hashes and use them to access sensitive parts of the enterprise's IT infrastructure, steal valuable information or take control over the network. Also, the protection of hashes stored on computers against unauthorized access does not provide sufficient protection, since such a protected hash can be abused by attackers by pretending a legitimate use.
Solution
Hash Guard provides the missing safeguarding mechanism: similar to a firewall it is situated in front of the enterprise's servers and monitors the network traffic for authentication messages, verifies whether a hash is used by its rightful owner and if not it automatically terminates the connection. The solution supports smartcard authentication, where the user only has to enter the PIN when logging in to the computer. From there on Hash Guard regularly checks incoming connections to the servers. For each authentication request to a server Hash Guard will assure the legitimacy of the connection by verifying the presence of the user's smartcard at the requesting computer.
Hash Guard protects protocols that employ the LAN Manager (LM) or NT LAN Manager (NTLM) as well as Kerberos authentication including Server Message Block (SMB), Internet Message Access Protocol (IMAP), Simple Mail Transfer Protocol (SMTP) and more. Modifying these protocols is not necessary.
Partner
Arkoon and Netasq, fully owned subsidiaries of Airbus Defence and Space, run the Stormshield brand and offer innovative end-to-end security solutions worldwide to protect networks (Stormshield Network Security), workstations (Stormshield Endpoint Security) and data (Stormshield Data Security). Arkoon Netasq implements Hash Guard in Stormshield products.
Benefits
Effective protection of Windows domain networks
Easy integration
High usability through single sign-on
ISO/IEC 7816-compliant smart card protocols