International Science Campus for Women 2018
For female students or graduates interested in a career in research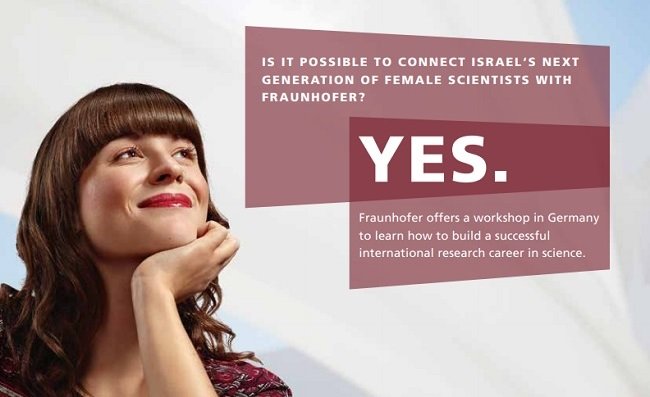 The International Science Campus brings together female STEM students and young scientists from Israel and Germany. Throughout your one-week stay you will meet the leading researchers from different Fraunhofer institutes. Learn about hot research topics and acquire tools for building a successful career path. You will get free flights and accommodation in Germany.
The Science Campus takes place from 12 - 15 march 2018
Participating in the multi-day science campus will give you deep insights into research work and provide you with valuable offers to enhance your personal and professional skills. You will learn more about your own creativity and strengths, and how to use them in application-oriented research. In selected seminars, workshops and lectures you will be able to establish contacts for your future career. If you aspire to a leading position in science and research, this event is the right choice for you.
Three Fraunhofer Institutes in Darmstadt
Fraunhofer Institute for Computer Graphics Research IGD
Fraunhofer IGD is the world's leading research institution for applied visual computing.Visual computing is image- and model-based computer science. In simple terms, it is the ability to turn information into images (computer graphics) and to extract information from images (computer vision). Applications are manifold and include man-machine interaction, interactive simulation, and modeling.
Fraunhofer Institute for Structural Durability and System Reliability LBF
The Fraunhofer LBF provides services along the entire value added chain, from the material and its processing through the realization of the finished component and the complex system to qualification in terms of safety and reliability. Through its wide-ranging competence and service portfolio, Fraunhofer LBF reaches a multitude of different markets. The customers of the institute mainly come from the automobile and commercial vehicle industry as well as from the chemical industry, but also from mechanical and plant engineering, aviation and defense, railway technology, shipbuilding, energy technology and construction as well as electronics and electrical engineering.


Fraunhofer Institute for Secure Information Technology SIT
The Fraunhofer SIT is one of the world's leading research institutions for cyber security and privacy protection. The institute deals with the central security challenges in business, administration and society and conducts practice-oriented cutting-edge research and innovation development.
Sunday, 11 March: Flight from Israel to Germany, Frankfurt am Main, transfer to accommodation Monday through Thursday, 12 to 15 March: Visit Fraunhofer Institutes in the digital center of Germany - Darmstadt Friday, 16 March: Flight back from Germany, Frankfurt am Main to Israel
The program provides a unique opportunity to forge personal and professional relationships. Participants will:
acquire priceless applied research workshop and management training experience
meet Fraunhofer experts from different Institutes
learn how to acquire top postdoctoral and other positions
free flights and accomodation
We will choose only the best out of all applications for the program.