Prof. Dr. Haya Shulman
Cybersecurity Analytics and Defences at Fraunhofer SIT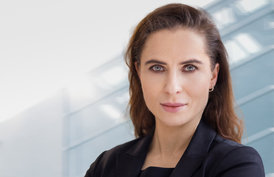 Prof. Dr. Haya Shulman is a professor in the Department of Computer Science at Goethe University Frankfurt since February 2022 and holds a LOEWE top professorship.
She is the director of the Cybersecurity Analytics and Defences (CAD) department at the Fraunhofer Institute for Secure Information Technology SIT in Darmstadt and head of the Analytics Based Cybersecurity research area at the National Applied Cybersecurity Research Center ATHENE, as well as Fraunhofer SIT's deputy representative at ATHENE.
In 2021, Shulman was awarded Germany's most prestigious IT security prize, the German IT Security Prize from the Horst Görtz Foundation, for the development of the Cache Test security solution as part of her work for SIT's ATHENE Research Center. She is the scientific director of the Fraunhofer Innovation Platform for Cybersecurity and a visiting professor at the Hebrew University of Jerusalem in Israel and initiator and director of the Hessian-Israeli Partnership Accelerator Program in Darmstadt and Jerusalem.
Haya Shulman graduated in 2014.